Grouper Fishing Charters Tampa Bay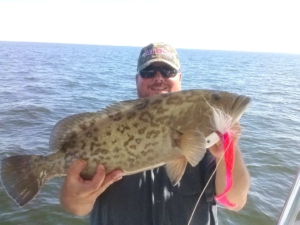 Tampa Grouper Fishing Charters with Spanish Sardine are a blast!  We are fortunate to have plenty of grouper species in Tampa Bay and the Gulf of Mexico. They can be caught offshore in the Gulf of Mexico and in Tampa Bay while trolling or by anchoring and bottom fishing. The Skyway Bridge Shipping Channel in the mouth of Tampa Bay and off Anna Maria Island (better known as "bean point") are loaded with keeper size Gag Grouper (some of my favorite catch). There are plenty of keeper-sized grouper in the bay, so don't be afraid to try new things while out fishing.
The most commonly caught species of grouper in Florida are:
Black Grouper
Gag Grouper
Red Grouper
Sometimes a giant Goliath Grouper will take your bait and that is a fight you will never forget!
---
The Right Fishing Tackle
Guests on the Spanish Sardine Fishing Charter are provided top-of-the-line Star Fishing Rods and Penn Fishing Reels to use during their fishing excursion. This quality equipment assures you the best fishing action while offering reliable and easy operation for every level of angler. You are also welcome to bring your own fishing gear if you'd like. We'll put you on the fish either way.
Photo Gallery