HogFish Fishing Charters Tampa Bay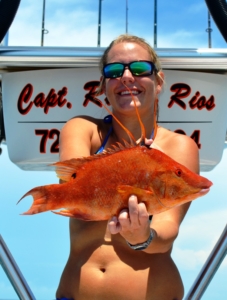 One of my favorite fish to catch on my near shore fishing trips in the Gulf of Mexico is the Hogfish. While being one of the hardest fish to catch on hook and line because they're very quick and picky eaters, there is not a better fish to eat that swims in the Gulf of Mexico than the Hogfish in my personal opinion.
Pound for pound they fight extremely hard, and they are found not too far from Tampa Bay. Hogfish is a species of wrasse, native to the western Atlantic Ocean, with a range from Nova Scotia, Canada to northern South America, including the Gulf of Mexico.
Identifying Hog Fish
Hogfish are very colorful and very distinguished. They have a very elongated snout that enables the fish to search for crustaceans buried in the sand and rocks. Their tail fin has a moon-like shape. There is black spot behind the pectoral fin that differentiates males from females. Hogfish are hermaphrodites, which means it changes sex during different life stages. They are first female and then mature to become male. The fish usually changes sex on their third year. Females will usually start out as pale gray, brown, or reddish brown in color.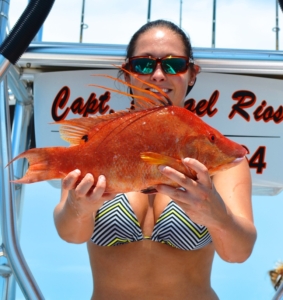 Hogfish Limits
Hogfish reach a maximum 36″ in total length and about 24 lb. Hogfish are regulated by the Florida Fish and Wildlife Conservation Commission. In the Gulf of Mexico, the minimum size limit is 12″ and the daily bag limit is 5 per harvester per day. They have been recorded to live up to 11 years. Their Spawning in our area of Florida occurs from November through June. Hogfish live in social groups that are organized into harems where one male will mate and protect a group of females in his territory.
The Right Fishing Tackle
Guests on the Spanish Sardine Fishing Charter are provided top-of-the-line Star Fishing Rods and Penn Fishing Reels to use during their fishing excursion. This quality equipment assures you the best fishing action while offering reliable and easy operation for every level of angler. You are also welcome to bring your own fishing gear if you'd like. We'll put you on the fish either way.
Video of Catching Hogfish
This video is from one of Spanish Sardine's recent fishing charters, and shows Hogfish in their natural habitat. Not only did we catch a very nice Hogfish, we also hooked Grey Snapper, Mangrove Snapper, Red Grouper, and Trigger fish.
Photo Gallery