KingFish Fishing Charters Tampa Bay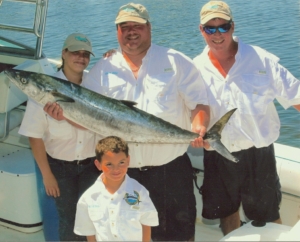 Tampa Kingfish Fishing Charters with Spanish Sardine are trips to remember for a lifetime!  Kingfish can be found along the beach and offshore in the Gulf of Mexico during Spring and Fall. In Tampa Bay Kingfish can be found around the pilings of bridges and large piers. Kingfish are fast swimmers and aggressive eaters, so they make for a good fishing experience. Once a king fish is on the line your reel begins to scream and you are in for an awesome fight!
Identifying  KingFish
Kingfish are colored green on their backs with silvery sides a streamlined body and tapered heads. There is no black color on front of dorsal fins and lateral line starts high and drops sharply below the second dorsal fin. Young kingfish often have yellow spots like those of the Spanish mackerel.
Fact About Kingfish
Kingfish are also known as King Mackerel. They are found in both nearshore and offshore waters throughout the Tampa Bay area, often near schools of baitfish. Kingfish are schooling fish that migrate from south Florida waters in winter northward in spring. They spawn offshore in mid-summer. Kings feed on small fish and will strike at both natural and artificial baits. Live baits include spanish sardine, pogies, herring, ballyhoo, and mullet. While using artificial Lures, I like to use flashy sub-surface lures or large fish-like plugs. Like many of the pelagic species, kings prefer water temperatures above 68 degrees, so they migrate to warmer waters in the fall.
Big Fish.  Big Flavor
This fish is favored as a gamefish, because of its fight and size that may range up to 90 pounds. Kingfish has an oily, soft, pale flesh, that is sometimes pink, which when cooked, becomes flaky and firm with an off-white color. The rich flavor will vary according to the oiliness of the fish. To check the fish for doneness, use the tip of a sharp knife and cut through the thickest part of the fillet. If the fish has been properly cooked, the meat will appear opaque but will still be moist.
Limits On Kingfish
In the Gulf of Mexico we are allowed to keep 2 King Mackerel per angler.
Fishing Tackle for Catching Kingfish
Tackle requirements depend on the size of fish and the method of fishing. Spinning or bait-casting tackle with 20 to 30 pound monofilament line is sufficient when free lining live baits as long as you have enough spool capacity for the initial run after hookup. While kingfish do not have great endurance, they are very fast and will commonly take 150 to 300 yards of line off the reel in the first 30 seconds of the fight. For trolling, 30 to 50 pound trolling tackle is commonly used. Kings have very sharp teeth requiring the use of a wire leader or very heavy monofilament leader.
The Right Fishing Tackle
Guests on the Spanish Sardine Fishing Charter are provided top-of-the-line Star Fishing Rods and Penn Fishing Reels to use during their fishing excursion. This quality equipment assures you the best fishing action while offering reliable and easy operation for every level of angler. You are also welcome to bring your own fishing gear if you'd like. We'll put you on the fish either way.
Photo Gallery