Mangrove Snapper Fishing Charters Tampa Bay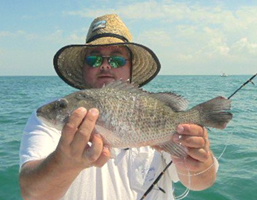 Tampa Mangrove Snapper Fishing Charters with Spanish Sardine are amazing!  Mangrove Snapper are fun to catch and great to eat. Mangrove Snapper, also known as Grey snapper are a great fighters to catch and great to eat.
Identifying Mangrove Snapper
They can be identified by their Dark brown or grey body with reddish or orange spots in rows along there sides. They have two very sharp canine teeth at the front of their upper jaw. You have to be extremely careful while handling Mangrove Snapper because as their name implies, they are always snapping. They can be found in the waters of Tampa Bay, on the surrounding canals, grass flats and along the Beaches, nearshore and offshore, in the Gulf of Mexico.
Delicious Seafood
Mangrove Snapper is a highly prized fish for eating because of its light and flaky flesh. It can be caught using a variety of baits. I Typically catch them using live or frozen shrimp. They also love minnows and occasionally they will go after an artificial lures or bait. Most Mangrove Snapper are caught on light to medium tackle, and typical catches range from eight to 14 inches long in shallow or in-shore waters, and up to 20 inches long in deeper waters. The reason we use light to medium light tackle is due to their superior eye sight. Any heavier line can spook them. While fishing for Mangrove Snapper in Tampa Bay I reduce the weight of my leader and make it a lot longer. I start with a 25 LB leader that's 8 feet long. If I don't get a bite, I will go down to 20 LB leader that's 8 foot long. The size of the hook is a 1/0 J hook. is a 1/0 J hook.
Limits on Mangrove Snapper
This year has been exceptionally good with many trips catching our limit of Mangrove Snapper within an hour. Our Florida fishing laws state that while fishing in federal waters (nearshore & offshore) we are allowed to keep 10 Mangrove snapper with minimum size of 12″ inches. While fishing in State waters (Inshore) we are allowed to keep 5 Mangrove Snapper with a minimum size of 10 inches. Below is a video of one of our younger clients catching Mangrove Snapper in Tampa Bay.
The Right Fishing Tackle
Guests on the Spanish Sardine Fishing Charter are provided top-of-the-line Star Fishing Rods and Penn Fishing Reels to use during their fishing excursion. This quality equipment assures you the best fishing action while offering reliable and easy operation for every level of angler. You are also welcome to bring your own fishing gear if you'd like. We'll put you on the fish either way.
Video of Catching Mangrove Snapper
This video is from one of Spanish Sardine's recent fishing charters, and shows Mangrove Snapper in their natural habitat.
Photo Gallery