In preparation for an inshore fishing trip I started the morning bright and early before the sun came up. Went to a nearby dock where I've been catching a lot of bait. Not too far passed the docks I saw a lot of fish jumping at the surface. I threw my cast net and caught 15 Ladyfish and a Snook. I released the Snook and kept the Ladyfish to use as Shark bait. Ladyfish are my favorite bait to use in the Tampa bay area. Every fish that swims in the bay will eat a Ladyfish. They're like M&M's to hungry fish. I went back to the dock and threw my cast net twice more. I loaded my bait well with nice bite size scaled sardines. With plenty of live bait in the well, I headed back to O'Neill's Marina to pick up my customers.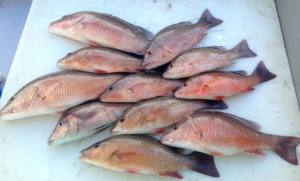 I had the great pleasure of taking Brian Waterstraat and Sam Mavrazanes on a half-day fishing trip. I asked them what they wanted to catch and they said whatever is biting. I suggested we first catch some sharks. Sam was extremely excited about having her picture taken with a shark. I went to one of my favorite shark fishing spots on the Pinellas County side of Tampa Bay. In about 2 hours we fought quite a few and landed 7 good-sized sharks. After catching the 7th shark we decided to catch something to eat.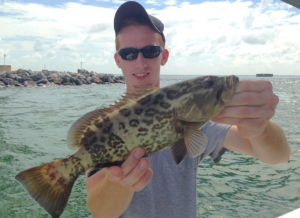 I took them to the rock piles along the middle span of the Sunshine Skyway Bridge. Brian started to catch fish one after the other. Sam soon caught up to him. The structure and water around the giant bridge and deep shipping channel make it an ideal location for a variety of fish. We caught Red Grouper, Gag Grouper, Grey Snapper, and Mangrove Snapper. We had our limit of Mangrove Snapper within an hour of anchoring by the bridge. The Limit of Mangrove Snapper is five per person. The biggest snapper was close to 3lbs. The bite in Tampa Bay continues to be ON FIRE!!
Thanks to Brian and Sam for being such good fishing companions. I look forward to fishing with you again.
Capt. Rafael