I had the pleasure of taking out Jerry and Chrys Rall on a half-day fishing trip. I started my day like I always do, out on the water waiting to catch bait at sunrise. Luckily, at this time of the year the bait seem to feed in the same spot. I found a nice dock with a lot of structure and only had to throw my net one time to get enough bait fish to start my day. I headed back to O'Neill's Marina to clean up the boat and wait for my customers.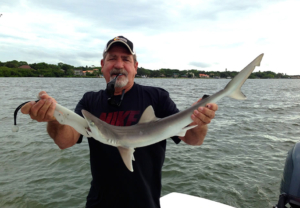 We started the day in the hunt for sharks. We ran south of Boca Ciega Bay in Pinellas County to my shark spot. I always start off with a couple different baits in the water. Whatever gets hit first is the bait I will use on all the lines. The Rall's landed 5 beautiful sharks. We then decided to put some meat in the cooler. The best thing to catch in Tampa Bay is Mangrove Snapper. We went to a spot where the Mangrove Snapper bite has been heavy. We caught enough Snapper for all of us to eat well. Snapper are a tricky fish to hook. They nibble on the bait and before you know it your hook it clean. Mangrove Snapper tend to stay in structured areas. Luckily, Tampa Bay has many rock piles and ledges for Snappers to hide in. While these structures are a great place to find Mangrove Snapper that'll take your bait, the structures can also take something from you – hooks, line and sinkers. Because of this, I always make sure I have plenty of extra tackle.
It was a beautiful day to be on the water catching fish with Jerry and Chrys. Let's do it again sometime.
Capt. Rafael