I had the pleasure of taking my good friend Dave Santos on a half day fishing trip. David and I have fished together many times and every time was something to remember. We've caught over 20 Redfish while wade fishing. The last couple times David has been on my boat it was a totally new experience because he has brought his family with him. He has two gorgeous kids Marisa and Ethan and a beautiful wife Valerie. His son was only three years old the first time he was on my boat and he reeled in fish all on his own. His daughter had a blast last spring catching a ton of Spanish Mackerel in Tampa Bay. The best part about fishing with a friend is being able to watch him enjoy time with his children and laugh with the kids while their dad catches nothing but catfish. The kids caught enough trout for everyone to eat while their dad was catching the fish no one wanted.
This time it was just him and I going fishing for Mangrove snapper. Our plans were to go early morning and catch bait as I always do. We were going to target Mangrove snapper. The day according to the local meteorologist was supposed to be a beautiful clear sunny day. We met at 7 am at the marina. The skies were dark and gloomy. I could see rain bans coming from the east. The winds were up to 15 knots and seas 2 to 3 feet. As soon as we got the bait, another ban of rain moved in and this ban brought some heavy winds. It was more like 20 to 25 knot winds, seas 3 to 4 feet.
I looked at David and told him there was no way I could go to my Snapper hole with the wind conditions. I told him I had a spot that has been producing some nice snook. His facial expression went from sad to extremely happy and he said, "I'd rather catch a Snook than some Mangrove Snapper."
We headed to my Snook spot not too far from O'Neill's Marina. I anchored the boat and cut up some Ladyfish to use for our bait. Within seconds of hitting the water the first bait was gone. I believe it was small Pinfish that chewed them up. When small bait fish are around you know there are bigger fish waiting to feed. I like it when Pinfish chew our cut bait because if there is a Snook or a Redfish nearby they will come right to the cut bait and eat it. Well, that was exactly how it went down. He hooks up and says,"it's a catfish" I said that must be the great grandfather of all the catfish. But it was not catfish, why he had was a beautiful Snook. Dave fought it perfectly and brought it next to the boat for an easy net. We measured the fish at 30 1/2". A beautiful slot fish. To be able to harvest a Snook, you need a Snook permit in addition to a saltwater license and the fish has to be from 28" to 33". We took some pictures and as I was about to release the snook he yells, "WAIT A MINUTE, I WANT TO KEEP THAT FISH!! I haven't eaten Snook in years."
I have not kept a snook since before 2010. The Snook population in Tampa Bay got hit very hard due to the cold fronts we had in 2010. The snook can't withstand extremely cold temperatures. It was a brutal winter with temperatures in the low 50's. Once the water temperature reaches 64 to 65 degrees, Snook along with other common fish quit moving and eating so the fish become lethargic. The cold front literally killed hundreds of thousands of snook. It has taken 4 years to see them come back. The FWC closed Snook season for a few years and it was definitely the right thing to do. To help in the conservation of Snook I have not allowed a customer to keep a Snook until now. My personal opinion is that they are not back as they were before the freeze. I used to go and catch 30 to 40 slot snook a day. Now it's very hard to catch a slot fish. I looked at David and said, I haven't had snook since 2009 but tonight we will make an exception and keep this one fish. That was the only Snook we caught at that spot.
We made a move to where there has been a big school of Redfish. No secret spot, Tarpon Key. Tarpon Key is a mangrove island located in Boca Ciega Bay. It is also one of several islands that is a National wildlife refuge and bird sanctuary. Public entry to the island is prohibited because of their critical importance to our coastal bird species. Do to the grass flats you can only go by the island with a non combustible engine. By using a trolling motor run by battery and having a very shallow boat you can observe the island up close. The island has been holding a big school of Redfish that I estimate to be at least 500 strong. As David and I approached Tarpon Key and get ready to fish I notice a big storm right behind us. I was watching that storm closely as I was on my tower controlling the trolling motor as we slowly cruised around the island in search of Redfish. We were about 3/4 of the way around the island when I saw a big push of water and a fin break the surface. I found the big school of Redfish we were looking for. As soon as I was getting within casting distance I heard this loud crack and the dark ominous clouds where creeping closer and closer. Storms in Florida are nothing to joke about. The rain moved in quicker than we had expected and within seconds the rain came down on us hard. Safety is more an important that catching a fish so we left the spot and headed back to the marina.
Since it was still early we decided to take a break and go to Munch's and have breakfast. After enjoying "The Sardinia Special", Yes I have my own special at the restaurant. We came back to the marina and waited for the sky to clear up until it was safe to be back on the water. We were determined to get an inshore slam. An inshore slam consists of Snook, Redfish, and Trout. We decided to take a chance and head out again in hopes that the storms would stay north of us and allow enough time to catch more fish.
I went straight back to Tarpon Key. The rain must have chased the fish off the island since they were no where to be found. Sometimes during storms the fish will move off of the flats and find shelter. Luckily for us there were docks nearby that have been know to have Redfish. We start fishing the docks by casting underneath the dock as far back as you can go. David was the first to hook up. He was a little too excited and turns out he had hooked his "favorite" fish, catfish. David admitted to me that he always catches catfish and I think the reason is because he wears a Florida State shirt. I told him that's like having Catfish cologne on.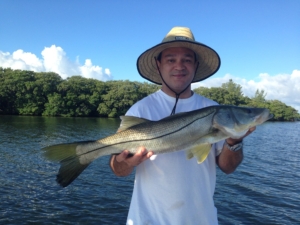 We fished that dock little longer and I hooked up. Of course David thought it was another catfish. I knew I had something different on the line so I wanted David to bring it in. He refused and I brought a nice Redfish to the boat. It wasn't the biggest Redfish but it counted for our slam. The fish measured 20". Once we caught the Redfish we decided to make one last move and try to catch the trout. I moved to the Tierra Verde flats. Instead of using the cut Ladyfish we switched to live sardine Dave hooked a smaller trout. We measured it and it ended up being 13". As soon as the fish was measured and released the storm was headed our way. We decided to call it a day.
We caught an inshore slam with a combined total of 63 1/2". The Snook was 30 1/2", the Redfish was 20", and the Trout 13". It's not everyday we catch an inshore slam but to do it on a day full of thunder storms and high winds was pretty awesome. We were truly lucky to catch anything. Even if we hadn't gotten the slam it was great to have the opportunity to spend some time and go fishing with my childhood friend. Can't wait to do it all over again. Hopefully the catfish leave him alone and he continues to catch fish worth mentioning!