I got a call from a good friend, Capt. Steve asking if I knew anything about Kingfish moving onto the beach. I told him I had gotten a fishing report last week from another captain that the Kingfish were just moving into Clearwater, so we decided to try and find them for ourselves. Steve said the water was going to be beautiful, nice, and calm. Steve called another charter fishing captain and I called another to see if they wanted to join in the hunt for the kings. My buddy David Santos got the fishing bug since going fishing with me last week and wanted to go too. We all met at O'Neill's Marina in St. Petersburg at 7am. As we headed toward the beaches of the Gulf of Mexico the winds were not as we thought they were going to be. Instead of 5 knots it felt more like 15. As we rode along the beach the water was calm due to shelter from land. As soon as we started to head west we had the wind to our back which made it an easy ride. We started to troll and caught a few Spanish Mackerel. Right family but wrong species. We were looking for King Mackerel. As we headed back toward the beach to troll a different spot the water was crashing over the bow. Everyone got wet from head to toe! We started to troll spoons and plugs. The best thing about fishing with other charter captains is learning from one another. Steve brought his favorite lures, Savage Gear 6 ½" Manic Prey in dirty silver and I used my go to spoon, the 6" Tsunami Flash Silver Spoon.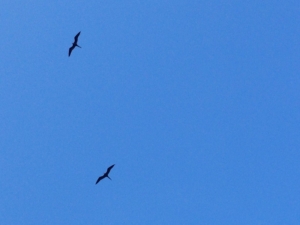 Once again we hooked up a few Spanish Mackerel. Although that was not our targeted species seeing frigits circling above was a good sign bigger fish were in the area. As we trolled closer to the beach we noticed a few boats fishing the same area. When I got to the marked numbers for my favorite kingfish spot the reel started screaming. A King was on the line. Luckily for David he was able to fight the fish all the way to the boat and put it in perfect position for me to gaff it. That Kingfish went straight from the water to the cooler. By the time we had the Kingfish in the cooler another boat had already anchored on the spot we hooked up.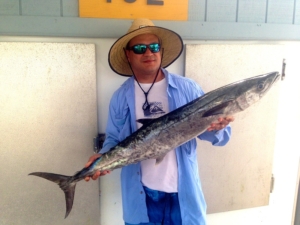 Leave 'Em for the Charter Customers
One Kingfish was good enough intel to decide they are here. No point in catching them all if clients are not the ones fighting them. We had a smooth ride in and with just enough time to dry off before hitting one of my favorite waterfront restaurants. We pulled up to The Wharf Seafood Restaurant and enjoyed a delicious lunch where we all shared stories about recent fishing trips.
It was just a short ride before we were back at O'Neill's Marina. Capt. Steve took the filleting duties while Carlos and I cleaned the boat. I can't wait to have my first Mackerel charter this week!